New opportunities for rubber bale feeding
ENTEX in cooperation with BONNOT offers an additional option for metered rubber processing. The successful ENTEX - BONNOT cooperation, reveals an added value aspect and an expansion in processing capabilities for our customers.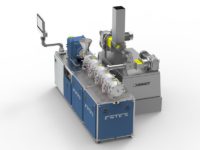 The implementing of the Bonnot Rubber Feeder solves one the most sensitive issues manufacturers face in feeding tough, sticky rubber bales into compounding extrusion equipment. Bonnot Rubber Feeders are efficient in handling all sizes of rubber bales, to include custom sizes i.e., strips.
The combination of Bonnot Rubber Feeders and the ENTEX Planetary Roller Extruder expands the possibilities in rubber processing. Showing perfectly, the ENTEX principle of continuous extrusion and adaptability for all processing demands. The rubber bale feeding system can be integrated, flexibly adapted and efficiently operated in a complete process, offering an attractive ROI.