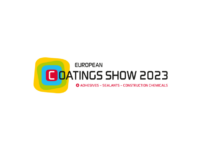 European Coatings Show 2023
Aesthetic, sustainable, functional, process-proof. The demands placed on paint and coatings are growing all the time. Decision-makers and thought leaders in the coatings industry face great challenges. The European Coatings Show – abbreviated to ECS 2023 – gives them the opportunity to meet the innovation leaders and discuss the latest developments in pigments, additives, adhesive and raw materials, intermediates for construction chemicals as well as laboratory and production equipment, testing and measuring equipment, application and environmental protection and safety work.
Visit us from 28.03. to 30.03.2023 at our Booth 4-226 in Hall 4 in Nuremberg, Germany.