Radial pelletizers
Radial pelletising.
An all-round winner.
More details on ENTEX pelletising systems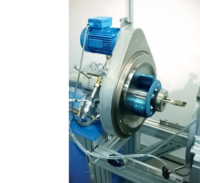 An all-round solution: Radial pelletising systems from ENTEX
Various types of technical pellets are frequently required as precursor products for the manufacture of all manner of plastics and recycled materials, as well as for food, animal feed, etc. The technical properties required for subsequent processing – such as diameter, length, weight, surface quality, residual moisture, etc. – are determined during the pelletising process.
Thanks to the Planetary Roller Extruder's patented radial pelletising facility it is possible to produce a wide range of uniformly shaped pellets with specific properties for a variety of industrial sectors. The radial pelletiser is mounted directly onto the Planetary Roller Extruder cylinder and the spindles convey the material radially to the cutting blades. This low-shear pelletising technology is extremely material-friendly and places little thermal stress on the extrudate. As a result, it makes it possible to pelletise even thermally sensitive materials like melamine resins, certain foods including malts and vitamins, and many other materials for which this was not previously possible.
Radial pelletisers can be produced for all standard extruder unit sizes as required.
BOOK A CONSULTATION
Do you have any questions left?