Calender Rollers
Rollers for film production
A symbiosis of thermodynamics and structural strength.
More details on ENTEX calender rollers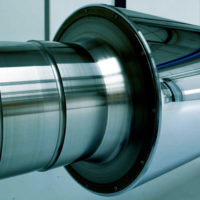 ENTEX calender rollers are encompassed by coils for fluid-based tempering that take advantage of the thin walls between the heating/cooling media and the extrudate. The ENTEX design combines precise temperature control with optimised flatness over widths of up to 4,000 mm.
ENTEX thermal rollers offer a variety of advantages compared to conventional, peripherally-bored rollers:
Shorter start-up times
Reduced temperature gradients over the width of the roller
Optimised peripheries and a larger usable roller width
Efficient energy transfer leads to significantly higher operating speeds and throughputs
Do you have any questions left?