Outstanding doctoral thesis involving the simulation of a planetary roller extruder.
ENTEX would like to congratulate Mr. Johannes Rudloff at the SKZ – Das Kunststoff-Zentrum for the successful completion of his dissertation. Johannes Rudloff, who holds an engineering degree in plastics engineering, decided as part of his doctoral thesis to explore the predictability of key process variables such as pressure, temperature, and the degree of melting within the planetary roller extruder.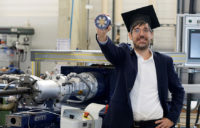 The planetary roller extruder differs sharply from conventional extruders as its toothed geometry provides a particularly large surface area through which heat exchange can take place between the material being processed and the metal surface of the machine. That is the reason why temperature-sensitive polymer compounding processes are one of the fields for which planetary roller extruders are commonly used. Now, thanks to models developed by Rudloff, it is possible for the first time to make calculations of the relevant processes. For example, we can estimate how a material can be melted efficiently and determine the maximum cooling effect that can be achieved.
ENTEX supported the work being doing by Rudloff by lending him a TP-WE 70 laboratory system.
ENTEX is the technological leader in the manufacture of planetary roller extruders and leading supplier of solutions for complex process and product developments.