The ENTEX Planetary Roller Extruder for pharmaceutical applications
The ENTEX technical team is pleased to support Daniel Nesges, a student from the Technical University of Dortmund, who is working on his master's thesis. With its unique design, the Planetary Roller Extruder (PRE) offers key elements for successful chemical and pharmaceutical reactions: Precise temperature control with large exchange surfaces. Continuous intensive mixing with very low shear.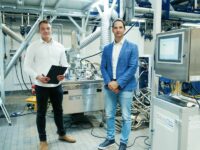 His thesis is supervised by Dr. Jens Bartsch, Academic council, Faculty of Bio- and Chemical Engineering at TU Dortmund University and Dr. Thomas Birr, the Head of Process Engineering Manager at ENTEX.
ENTEX wishes great success and all the best!